Commercial hunts – hoofed game
Commercial hunts – hoofed game
Židlochovice Forest Enterprise is situated in south-eastern Moravia, Czech Republic in the vicinity of the Slovak and Austrian state borders. Its headquarters are in the small town of Židlochovice, about 20 km south of Brno.The forest enterprise offers commercial hunts of hoofed game predominantly in its game preserves in the south of Moravia.
The main hoofed game bred in game preserves is red deer, alongside fallow deer, mouflon and wild boar. Game preserves were established in places where originally red deer occurred. Depending on local conditions of individual sites, red deer was later complemented by other game species. Owing to the large area covered by game preserves, game remains naturally elusive, which makes hunting a unique experience.
Every year, specimens with outstanding trophies are shot here (stag: 215 CIC points, fallow deer: 190 CIC points, mouflon: 225 CIC points).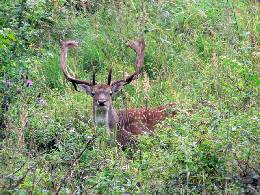 The most common type of trophy game hunting in rut period are still hunts on towers and stalking. Outside the rut period stalking is predominant. When hunting, guests are accompanied by professional hunting guides.In all the hunting grounds our guests are offered accommodation in fully equipped hunting lodges (electricity supply, toilets, showers with hot water, kitchenettes and common rooms with fireplaces or stoves). On request we can arrange delivery of hot meals. Another accommodation option is the stylish chateau in Židlochovice.
The principal hoofed game hunting grounds are the game preserves of Bulhary, Moravský Krumlov, Klentnice and Soutok.