Židlochovice Pheasantries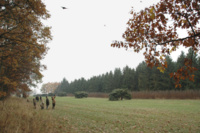 At present the Židlochovice Forest Enterprise manages 9 pheasantries covering the total area of 8,514 ha of hunting grounds. All but one pheasantry (Kurdějov pheasantry) are characterized by flat terrain and are situated in the Svratka and Jihlava river floodplains. The pheasantries are predominantly covered by hardwood floodplain forests (oak, ash, elm, walnut) and softwood floodplain forests (poplar, linden, willow). These forest stands constitute the core of all our pheasantries. Coniferous trees, such as spruce or pine, can be found mainly in man-made front parts of individual drives. Present pheasantries are characterized by distinct stand regulations, predominantly in the drives' so-called heads. These parts of pheasantries are expected to contain the highest concentration of pheasants and the actual hunts take place in them. Suitable tree species composition and division of individual forest stands enables us to gain the most favourable conditions for driven hunts. Thanks to this, hunts with relatively high numbers of shot birds have become the trademark of Židlochovice pheasantries.
A key factor in the successful long-term management of our pheasantries is the quality of bred birds. Most pheasants are bred in our breeding stations and great emphasis is placed on health, general maturity and adaptability of maturing chicks to the relatively harsh conditions of life in the wild. Pheasants are released at the age of 10 weeks and in a short time they must adapt to a life in a hunting ground (predators, diseases, extreme weather). Losses of young chicks are considerable (over 50 per cent of all the released birds). The total annual numbers of shot birds are in close relation to an early release of pheasant chicks into the hunting ground and stand at 40 – 45 per cent of all the released seven-week-old chicks. However, as a reward for the considerable losses we can boast mature pheasants with very good plumage, with relatively long tail feathers even at the beginning of the hunting season and most importantly, birds which fly very well. The best advertisement and reward for a job well done are satisfied hunting guests who keep returning to our hunting grounds year after year. A group of German hunters has been hunting with us already for 43 years.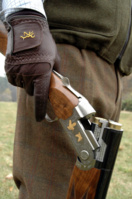 Daily gamebags average between 1,000 and 1,500 birds. However, the minimum daily gamebag is 500 birds and on request we can arrange gamebags of up to 3,000 birds. In order to organize a driven pheasant hunt we require a group of minimum five hunters. The ideal number of shooters is 8, the maximum number 12. Each hunter is assigned a different post in every drive to make sure that shooters get an equal share of all the different positions in the course of the day. A day-long driven hunt consists of six to seven drives which are distributed evenly around the individual pheasantry. At the start of the hunt, each hunting guest is assigned a loader, an employee of the Forest Enterprise (who loads the guest's gun and keeps record of successfully shot birds in individual drives), and a helper to carry shells. Their task is to provide each hunter with the best possible comfort and allow them full concentration on the course of the hunt. In accordance with ancient hunting traditions each hunt is concluded by a gamebag and by the festive fanfare of horns.
An important and integral part of pheasant hunting in Židlochovice is catering and accommodation. Our guests highly value the possibility to stay in the stylish chateau rooms divided into three categories. Moreover, the chateau's cuisine is renowned. Breakfasts and dinners are served directly at the chateau, in the hunting-style dining room. Lunches are served as part of the hunt in hunting lodges in individual pheasantries.