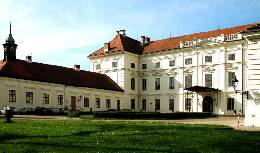 The Židlochovice chateau is one of the best preserved hunting chateaux in Europe. Together with its historical pheasantries and deer game preserves it constitutes a unique hunting complex which continues a century-long game-keeping tradition of the area.
The chateau's origins date back to the 14th century when records mentioned a water stronghold built on the so-called amber trade path connecting the Mediterranean and Baltic coasts. In the course of centuries the stronghold gained gradually more splendour under the possession of the Žerotín, respectively the Waldstein noble families. A radical transformation was carried out under the reign of the count of Sitzendorf (1696 – 1743), who also markedly influenced the game-keeping development of the Židlochovice manor. The castle served not only as hunting venue but also as a place of social and political gatherings.
The present form of a hunting chateau (in Classicism style) was most markedly influenced by the archduke Fridrich who was in possession of the chateau in 1895 – 1918. In his time Židlochovice housed grandiose small-game hunts and the chateau's interior became adorned with trophies coming from hunting grounds all over the Austro-Hungarian Monarchy.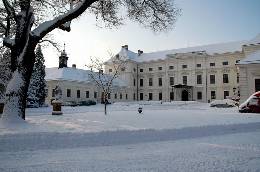 Since 1918 the Židlochovice chateau alongside the adjoining park have been in possession of the Czech Republic. In the 1920s and 1930s T.G. Masaryk, president of the then Czechoslovak Republic, paid several visits to the chateau.
The adjoining park was established in the early 18th century and was gradually transformed into an English-style landscape garden. It covers the area of 22 hectares and is open to public all year round.
At present the Židlochovice chateau provides comfortable accommodation. For their best possible comfort, our guests can have the use of a hunting-style dining room, main parlour and Pink Lounge. Alongside catering and accommodation services, the Židlochovice chateau offers a modern conference centre and a number of other services.